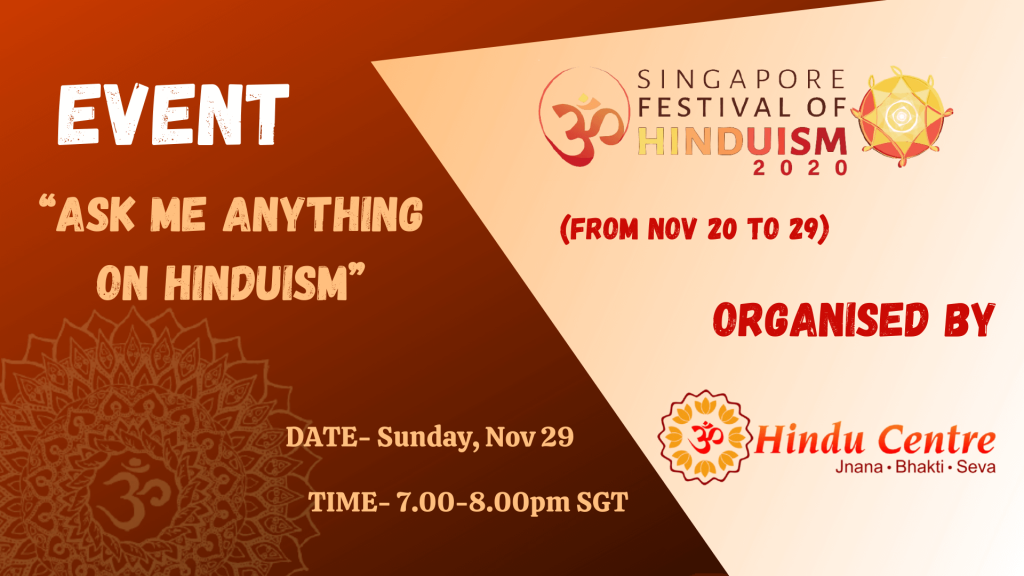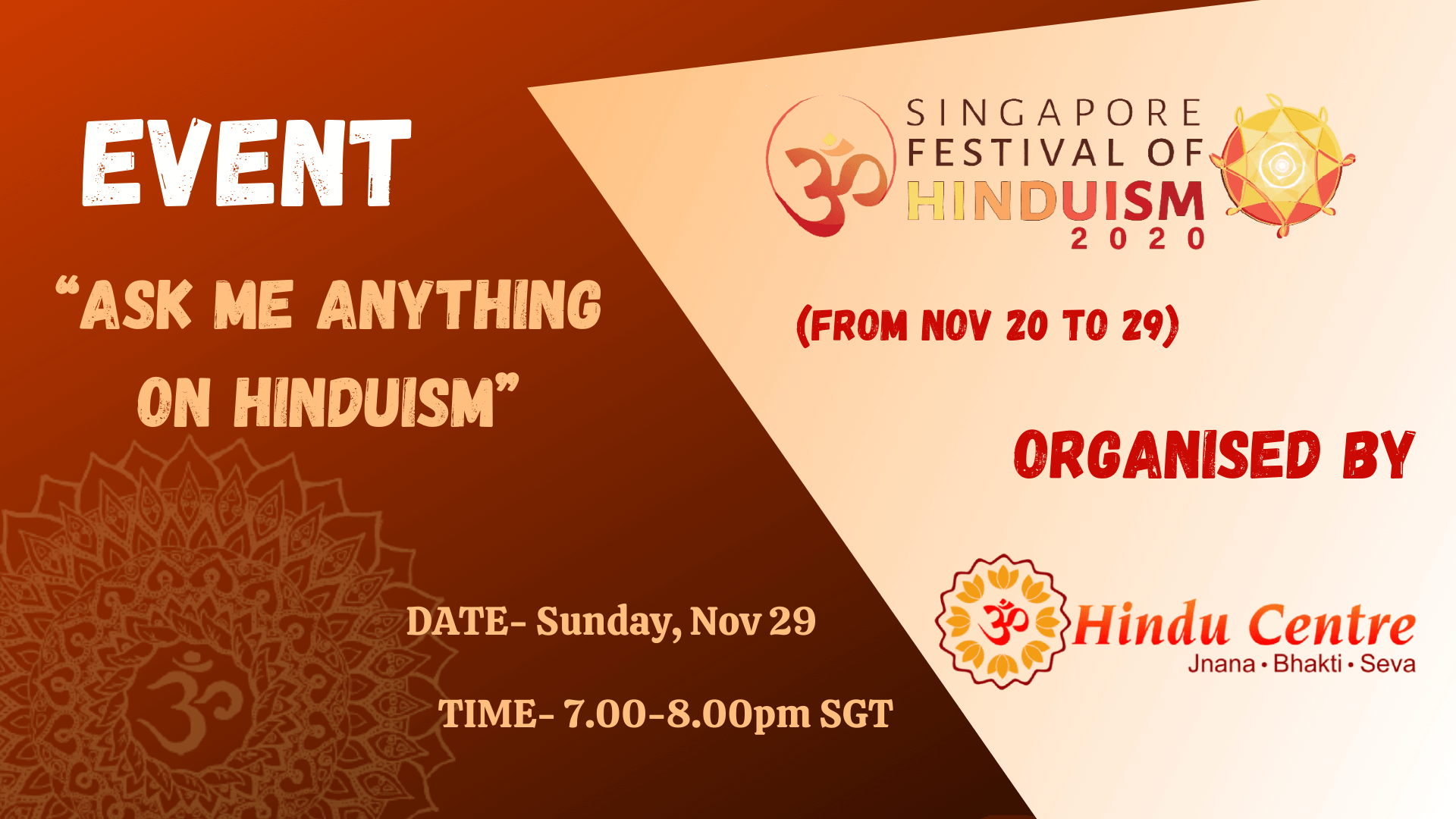 Event 24
"Ask Me Anything on Hinduism"

The Ask Me Anything session is a grand finale to this Singapore Festival of Hinduism 2020. It is meant to be an open forum for any kind of questions you may have on the religion, its tenets, its practices, its festivals, and whatever you can think of.
Ask them in advance, or come prepared to ask our panelists during the session!
A Q&A session moderated by Dr. Uma Natarajan.
Panelists: Mr. S Ravenderan, Mr. Anand Chandrasekar, Ms. Soundharya Pradha

Ask Us Your Questions/Queries in Advance


Add to Google Calendar

SHARE THIS EVENT
Share on facebook
Share on whatsapp
Share on twitter
Share on linkedin
Share on email
Presenters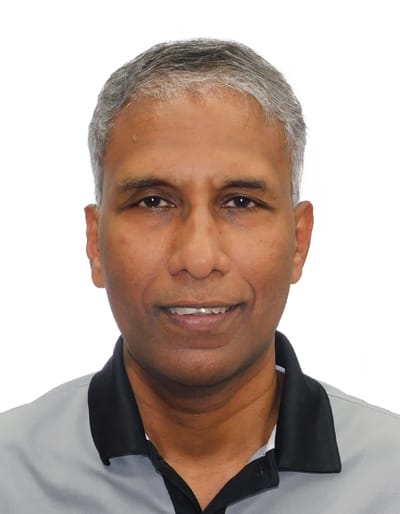 Mr. S Ravenderan

Ravi has been an ardent student of Hinduism for over 3 decades, and has been teaching Hinduism for more than 10 years in various Indian and Hindu organisations. He has also been a speaker and facilitator at IRO's Inter-faith dialogues, as well as writer of Hindu articles in various Hindu Centre publications.
He has trained Hindu counsellors for deployment in Singapore Prisons as religious counsellors and also served as Vice-President and remains a current volunteer-teacher at the Hindu Centre.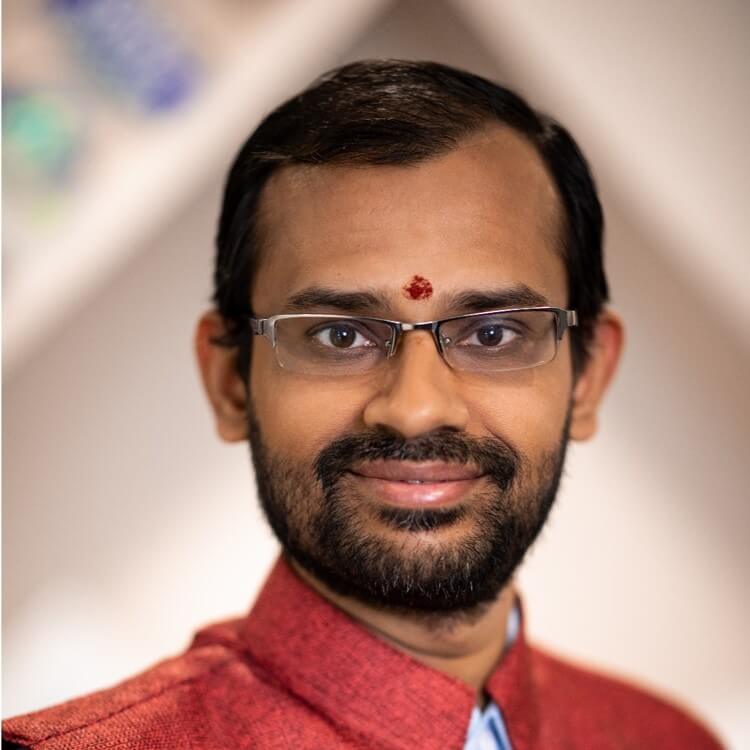 Mr. Anand Chandrasekar

Anand Chandrasekar volunteers his time with multiple Hindu organizations – Hindu Endowments Board, The Singapore Dakshina Bharatha Brahmana Sabha, and Chinmaya Mission. He conducts youth and adult classes on Hinduism and the Bhagavad Gita. Professionally, he is a researcher and facilitator of leadership development programs.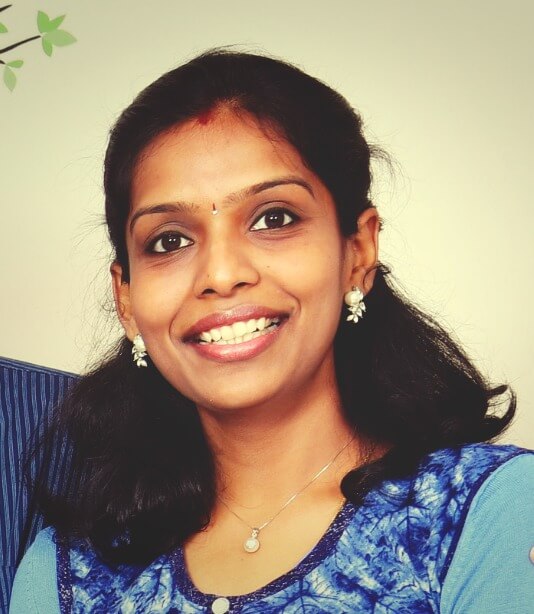 Ms. Soundharya Pradha

Soundharya has been serving as a volunteer teacher at Hindu Centre since 2017, and a member of the Education Committee since 2018. She currently works as a Change Analyst at a multinational bank. She has a keen interest in learning and sharing knowledge about Hinduism.
She has been a trainer for Hindu Marriage Preparation programmes, and is a regular speaker on topics related to Hinduism.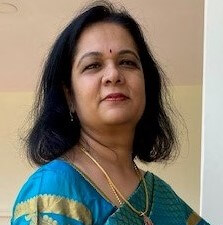 Dr. Uma Natarajan
Uma is Honorary Secretary of the Hindu Centre, Singapore, and has been volunteering with the Centre for four years now. She is active in the Bhakti Wing at the centre and spends time chanting and learning spiritual Hindu texts. Uma is an ardent lover of Carnatic music and was also a student of SIFAS. Uma has lived and worked in the United States for almost a decade, where she served on the Board of a Philadelphia-based non-profit music society, Sruti.
Professionally, she is an educator and researcher in the field of K-12 education. She serves on the Board of an education charity, Enabling Leadership, as well as a People's Association (PA) grassroots leader (GRL) for a neighbourhood committee.
https://www.youtube.com/watch?v=cXGAai57fbk