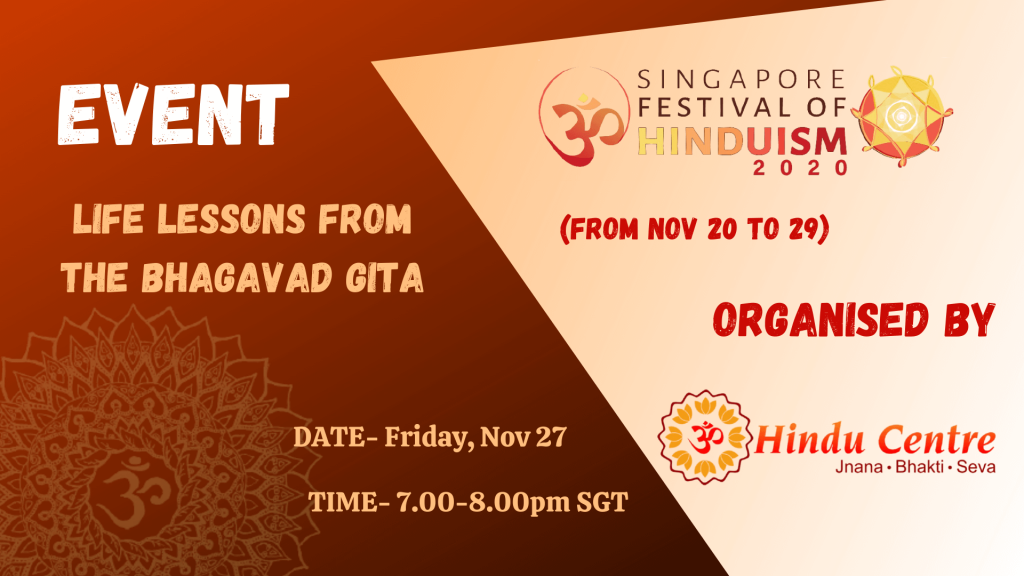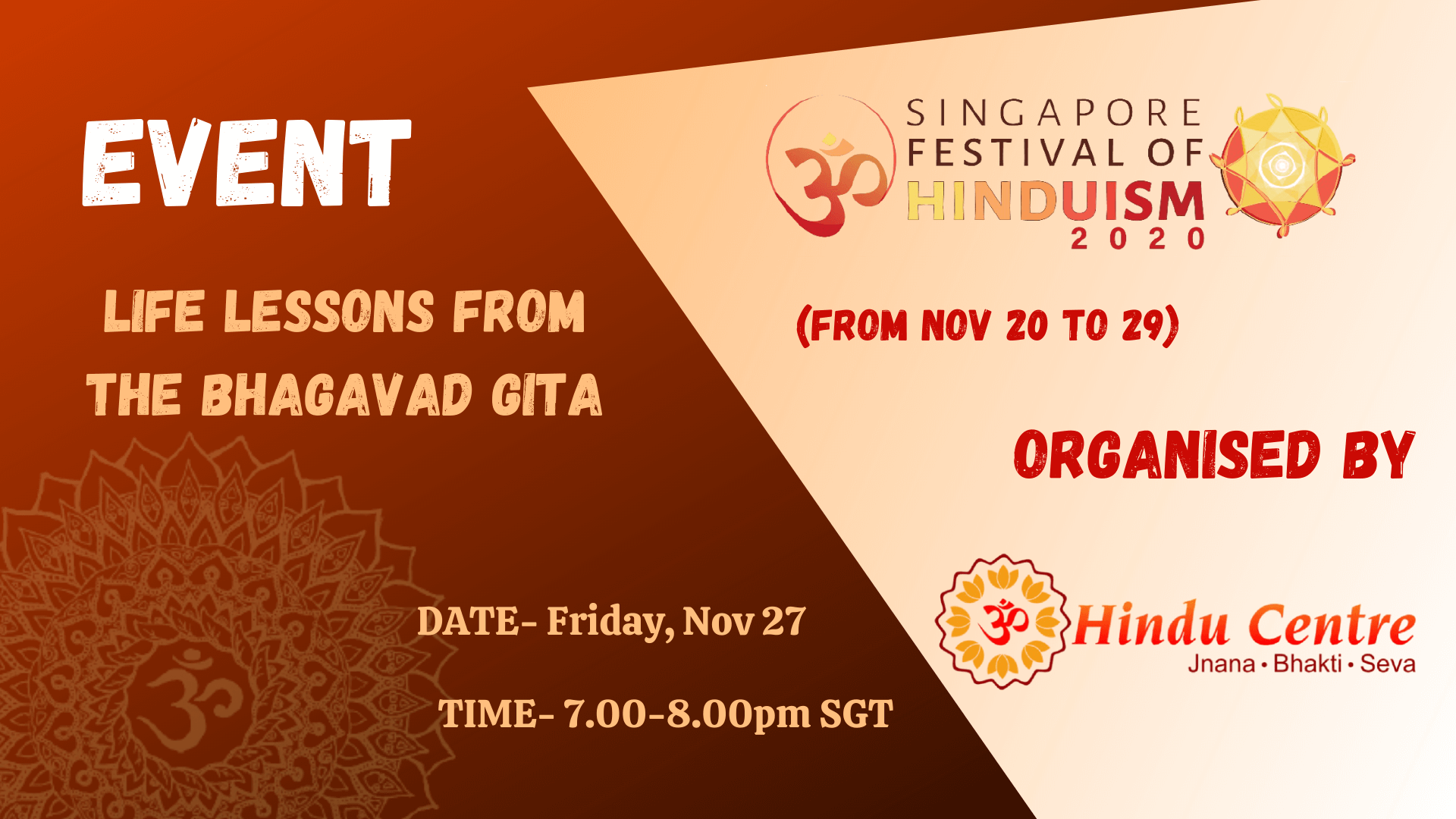 Event 18
Life Lessons from the Bhagavad Gita

The Bhagavad Gita is like a mirror to reflect on one's own imperfections and provides guidelines for us to courageously overcome these shortcomings. In this talk, the important lessons one could learn from the Bhagavad Gita would be highlighted. Further, the profound impact of these lessons on an individual's life is elaborated, as well as the potential that could have to transform and enrich one's life within and without.
Download the supporting PDF for this talk – Takeaways and Shlokas.

Ask Us Your Questions/Queries in Advance


Add to Google Calendar

SHARE THIS EVENT
Share on facebook
Share on whatsapp
Share on twitter
Share on linkedin
Share on email
Presented By: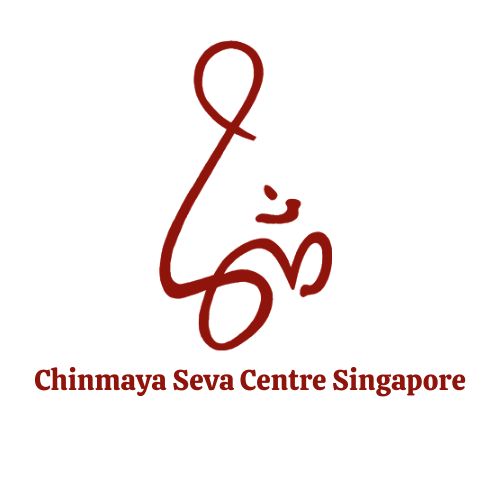 Presenter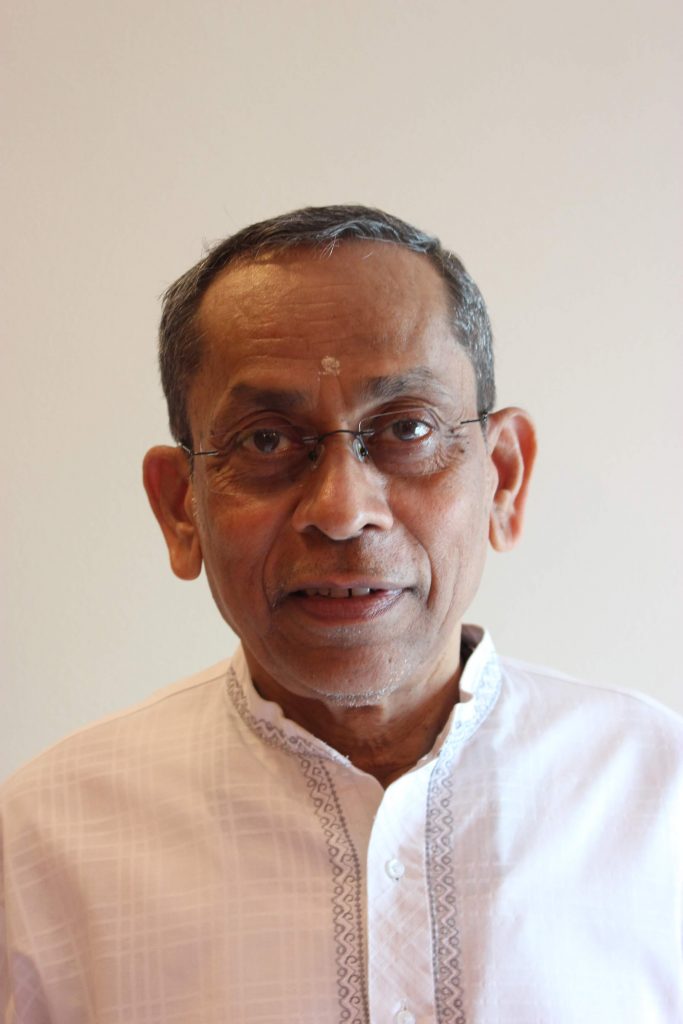 Dr. A L Ananda

Anandaji is one of the resident teachers of Chinmaya Seva Centre Singapore. He was blessed to have met Pujya Gurudev Swami Chinmayanandaji. He has been associated with the mission for more than 3 decades and is one of the trustees of CSC. He completed a 2-year residential Vedanta course at Sandeepany Sadhanalaya Mumbai in 2016, under the tutelage of Pujya Swami Tejomayanandaji and Pujya Swami Bodhatmanandaji. Since then, in Singapore, he has taken a number of classes in Vedanta and Bhagavad Gita every week covering several prakarana granthas, and Upanishads.   Prior to joining the Vedanta course, he worked as professor of computer science in one of the local universities in Singapore.
https://youtu.be/-cKfWcSEBqU